December 31, 2012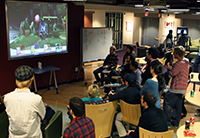 This semester saw the return of Film 373's Video Game Night to the Computing Center at Cox Hall. Film 373: Special Topics Video Games offers students an introduction into the history, theory, aesthetics and culture of video games and is a unique and highly sought after undergraduate course at Emory.
Tanine Allison, American Council of Learned Societies (ACLS) post-doctoral fellow in the Film and Media Studies Department, taught the course hosted this semester in the Computing Center at Cox Hall for both its standard MWF course time and a Thursday late night lab for hands-on gaming.
To help cap off the semester, the UTS Student Services team set up and facilitated a "Game Night" the Friday before Thanksgiving in the Computing Center for FILM 373 students and invited guests. The evening saw a focus on console gaming on platforms such as the Nintendo 64, Playstation 2, Wii, and Xbox 360.
A Super Smash Brothers tournament was the big event of the evening, with the students running a tiered single elimination competition in the Computing Center Gallery. Another draw was the presence of Time Crisis 2, utilizing a light gun or "zapper". Many thanks go to Classtech for being able to provide the "old fashioned" tube television required for the zappers to work properly.
Lastly, Halo 4 made an appearance. With just a week on the market, Halo 4 had already sold over 4.5 million units by the start of our game night. Unfortunately, Cox Hall is unable to contain 4.5 million players, so instead we offered the class a setup that allowed 16 players to play with each other simultaneously using the group study plasma displays and the Cox Fishbowl. To make up for the 4.5 million minus 16 gap, generous portions of pizza, chips, and soda were provided.
Turns out, the Princess was not in another castle and the overall response from students was very positive. The Student Services team enjoyed supporting this highly engaged class and welcomed the opportunity to help them end their semester with a "bleep" and a "bloop".
- Kim Braxton & Robin Horton, UTS Student Services
---
For additional information on this or any other Emory OIT service, please contact the
University Service Desk at 404-727-7777, Monday - Friday 7 am - 6 pm.
---