Information Technology Architecture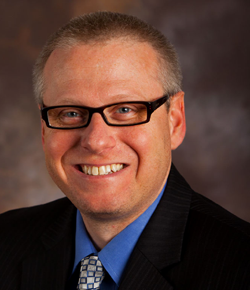 A respected leader in IT architecture, Steve Wheat became Emory's Chief Information Technology Architect in July of 2008. His strategic leadership and tactical execution of organization-wide initiatives improve customer satisfaction and bottom-line financial performance. He has extensive experience in leading the design, implementation, and integration of web-based applications and services.
In FY12 we made significant advancements in defining and documenting web, mobile and eCommerce application frameworks for research, academic and administrative applications.
Web Application Architecture
OIT Architecture, University Technology Services (UTS), Research & Woodruff Health Sciences IT (R-WIT) collaborated to define a common web application architecture for applications developed by OIT units. This OIT-wide team achieved consensus on using Google Web Toolkit and the OIT architecture group documented the application architecture in detail in the Emory Google Web Toolkit Reference Guide. This guide can now be used to train new developers and maintain conformance with our web application development practices. The application framework also supports development of mobile web applications in addition to traditional desktop web applications.
Carlos Museum eCommerce Site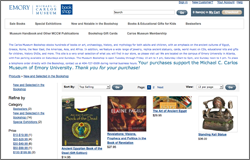 OIT Architecture and UTS worked with Carlos Museum to evaluate several eCommerce platforms. The team selected Amazon Web Store as the service with which to implement an initial prototype. The team developed the web store layout, entered inventory, resolved tax and accounting issues, and implemented a proof-of-concept web store, which is now in production and publicly available at http://webstore.carlos.emory.edu.
HIPAA Audit Logging Service
The Emory HIPAA Audit Logging Service (HALS) is a service that encapsulates the logging functions necessary to maintain application-level audit logs that meet Emory's HIPAA compliance policies. Applications can access HALS as an ESB service or as a web service to log all required information about application events that must be audited according Emory's HIPAA compliance policies. The HALS stores these audit log entries in a central database that is reviewed by OIT Information Security. HALS can feed this centrally logged information into log analysis tools that assist OIT Information Security in analyzing access to electronic protected health information (ePHI). In FY13 the OIT Architecture Group will develop a web application for viewing, searching, and monitoring audit log information in the HALS.
Master Patient Participant Index
The OIT Architecture Group worked with the Center for Comprehensive Information and R-WIT to develop an enterprise service bus (ESB) and web service that exposes logic for generating and registering patient study participant identity data. This service allows research applications such as study subject registration applications and biobanking applications to share study participant identity data accurately while maintaining all necessary HIPAA compliance audit logs.
WebEase web and mobile applications

WebEase (Web Epilepsy, Awareness, Support and Education) is an interactive, on-line self-management program for people with epilepsy. The goal of WebEase is to support and foster the management of epilepsy by people with epilepsy. WebEase was developed by a team of Emory University researchers and physicians who treat patients with epilepsy.
Emory researchers initially hired external consultants to develop the WebEase web application. The production application is presently hosted by these consultants. In 2012, Emory OIT began working with the research group to redevelop the application as both a web and mobile application. The new WebEase has a service-oriented architecture. Its services are used by a new Google Web Toolkit (GWT) web application, iPhone operating system (iOS) mobile application, and Android application. The new WebEase application with both web and mobile clients is scheduled for release in 2013. It will replace the existing WebEase application.
Looking Ahead
In FY13 the OIT Architecture Group will be working on documenting mobile application development architectures, a new release of the OpenEAI ESB Console, Emory Commons integration development, research picture archiving and communication system (PACS) integrations, and more. Visit the OIT Architecture Wiki for up-to-date status on current and planned initiatives.
Steve Wheat
Chief Information Technology Architect, OIT Enterprise Architecture
<< Emory Healthcare Information Services | IT Finance & Administration >>