Emory Healthcare Information Services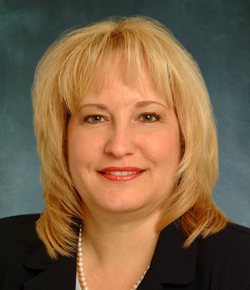 Dee Cantrell is the Chief Information Officer at Emory Healthcare, Inc., in Atlanta, GA. Emory Healthcare is a large integrated academic health care system committed to the highest level of care for patients and families, educating health care professionals for the future, pursuing discovery research and clinical innovation and serving the community. As the clinical arm of the Woodruff Health Sciences Center of Emory University, Emory Healthcare is the largest, most comprehensive health care system in the state of Georgia.
The Emory Healthcare Information Services (EHC-IS) team is proud to support the delivery of high-quality patient care through technical excellence and innovation. FY12 was an exciting year for the team. Every member of the Information Services team came together to foster positive change throughout the organization. The team is looking forward to FY13 and the great projects yet to come.
Clinical Quality
EHC-IS started a phased go-live across Emory Healthcare (EHC) operating rooms to anesthesia electronic documentation, integrating anesthesia care into the electronic medical record - a benefit important to quality care and collaboration among colleagues.
Emory Healthcare followed in the direction of a number of other leading health care organizations in carefully limiting standing orders for repetitive laboratory orders. Restricting the ability to order daily laboratory tests, which are often ordered at the time of admission and sometimes forgotten, ensures that lab orders are intentional and appropriate, while simultaneously freeing up laboratory resources to better meet the highest priority needs.
The division improved immunization tracking in EeMR (Emory electronic Medical Record) for more accurate maintenance of immunizations and tracking of patient compliance. This immunization documentation process not only shows history and administration of immunization, but it also shows the future Immunization Schedule. Immunizations are now automatically updated in the state's immunization system. This was previously a manual process. Another implementation was the use of GE Picture Archiving and Communications System (PACS) for mammography image storing, ensuring that all patient images for mammography are on one system.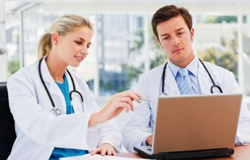 EHC-IS developed a PowerForm and custom MPAGE within EeMR for lung transplant patients to allow the lung transplant program to more easily view, trend and export data for their patients.
Heaslthcare-IS went live with new EeMR patient care orders in the EDs at Emory University Hospital and Emory University Hospital Midtown to promote standardized, expedient care, while preserving intellectual discipline needed for quality care. The team also introduced the IView platform within EeMR for nursing and respiratory documentation, which brings with it continuity of care for patient safety and a streamlined workflow. This includes documenting lines, drains and tubes within IView to ensure monitoring of total line days for quality care. In the intensive care units (ICUs), this responds to the requirement to replace the previous system, Emtek, which is no longer available. With IView, everyone working on a patient's care is able to see the documentation, keeping the entire care team in-the-know. Documentation is less fragmented and fits better into team workflows.
By launching the EHC Health Information Exchange (HIE) and increasing its visibility to all PowerChart (EeMR documentation for EHC) and PowerWorks (electronic documentation for Emory Specialty Associates) users, we took the first steps in having a full-scale HIE accessible within Emory and the Clinically Integrated Network for provider collaboration and enhanced patient care. HIE describes electronic movement of health information among entities according to nationally recognized standards. The EHC HIE includes basic demographic information, vital signs, medications, allergies, radiology reports (not images), problems, immunizations and lab results.
To continue to move forward efficiently, departments need enhancements to current applications and implementation of new ones. All applications must be thoroughly reviewed for security purposes and scalability across the system. Information Services implemented or upgraded more than 50 applications during FY12.
Patient and Family Experience

In terms of improving the patient and family experience, we launched Project Falcon, an Emory Clinic-wide effort to further standardize the patient experience and take advantage of new electronic tools to help our patients and teams. Additionally, we started a phased go-live of the Emory Healthcare Patient Portal across The Emory Clinic (TEC) to provide a secure, online health management tool for patients.
Through the portal, patients can correspond with providers, request a prescription refill, check on lab results and view their health care record. Patients who have signed up to use the Emory Healthcare Patient Portal are able to see discrete clinical lab results seven days after they are available in PowerChart.
A system-wide campaign, called Protect Our Information, to educate physicians and staff on proper measures to take to keep sensitive data secure was another major accomplishment in FY12.
Commitment to Those Who Serve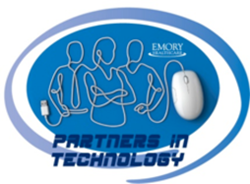 Fully transitioning Emory Johns Creek Hospital (EJCH) to Emory Healthcare technology throughout FY12 culminated with a final go-live in August. This effort represented the full partnership of EJCH into the EHC system.
Ahead of the August go-live of all remaining clinical and non-clinical systems, including computerized provider order entry, significant work was accomplished ahead of time. For example:
The hospital moved to PeopleSoft for accounts payable, general ledger and asset management.
New electronic charts for more than 3,000 patients were created. Two years of historical patient data was migrated from the previous clinical system (Meditech) to the EeMR (Emory Electronic Medical Record) system.
Ahead of the August go-live, Emory Johns Creek Hospital went live with Emory Healthcare inpatient and outpatient scheduling in Radiology and Peri-Operative Services Labor and Delivery (L&D), Cardiology, Pain Center, Cath Lab, Physical Therapy/Rehab, Sleep Lab, Respiratory, Electroencephalography (EEG) and Nutrition. This signified use of enhanced functionality that supports consistent scheduling workflow aligned with Global Patient Registration so that each patient has a full registration, real-time insurance verification and an encounter that is auto-generated and tied to the scheduled appointment.
We also started the transition of Saint Joseph's Hospital (SJH) to Emory Healthcare technology by migrating employees onto the Emory Healthcare system with access to Outlook and user and department file shares via Virtual Desktop (VDT) to fully onboard SJH employees. Saint Joseph's Hospital was also moved to the same purchasing and materials management system used at Emory Healthcare. Work continues in preparation for the full migration to Emory Healthcare technology systems in 2013.
A new interface for the VDT was introduced as a new interface for the Virtual Desktop to make navigating the VDT more user-friendly.
Financial Strength
EHC-IS implemented new coding software in Radiology to improve coder productivity, coding accuracy, reimbursement and compliance. We also upgraded TEC's claim scrubber in preparation for the new International Classification of Diseases (ICD) 10 diagnosis guidelines. The claims scrubber application allows for review of claims before submission to reduce claim denial rates, shorten accounts receivable cycles and increase the rate of collection by automatically launching against a knowledge database of both Medicare and commercial edits and checking each claim for errors, omissions and questionable coding relationships.
We went live at Budd Terrace with PointClickCare (PCC), an information management system for long-term care, to increase efficiency by moving from paper to electronic, meet regulatory compliance measures and ensure all care is documented for appropriate billing. PCC is designed to track each resident from initial interest in Budd Terrace through the full continuum of care. For example, it captures activities of daily living and clinical and financial information, as well as automates preadmission processes.
Posting of patients' meta coding summary for documentation of care was automated, creating efficiencies and saving money. Previously, the summary had to be scanned into the system. Because most of the coders work remotely, they would have to physically drive in once a week to scan their summaries in. This created a backlog of summaries to be posted to patients records. In addition, with a recent move of the Medical Records Department to Peachtree Center in downtown Atlanta, not having to manually scan saves Emory Healthcare an estimated $1,200 a month in parking when the coders would need to come in to scan.
Prior to the completion of this project, outpatient lab services for government payers were billed through Emory University Hospital (EUH) via Healthquest. Since these patients have services related to outpatient physician visits at TEC, the account follow-up process related to non-lab services was already handled by clinic staff. In addition, outpatient lab services for non-government payers have always been billed through TEC.
Dee Cantrell
Chief Information Officer, Emory Healthcare Inc. Information Services
<< Office of Information Technology | IT Architecture >>